Natasha Jackson's son is only 7 years old, but he has been suspended repeatedly from school in Austin, Texas, where black children are sent home almost eight times more often than white students.
He rough-housed in class and failed to pay attention, behavior his mother does not excuse. But she does wonder why it was allowed to escalate to the point where he ended up in the school office over and over. He recently hit a principal who tried to restrain him, she said.
"You're just setting him up for failure at that point, because now he's academically behind," Jackson said. "You're treating him like he's a criminal for behavior that really isn't."
Jackson, who is working with an occupational therapist and transferred her son to a school nearer her job, says there is no way to know whether his race contributed to how often he was suspended, but wonders why a child that young is being sent home.
"That approach is not helping, and it's going to end up ruining lives," she said.
Justice in schools across America is not color-blind. In almost every state and in thousands of school districts, black children are disciplined far more often than other children.
Black kids are twice as likely as other children to be expelled, nearly four times as likely to be suspended from school and almost three times as likely to be arrested – an event that can haunt them for years.
Children with disabilities, particularly black children with disabilities, also are disciplined much more often than children without disabilities.
"It's persistent, pervasive and punishing for kids of color," said Michael Harris, a senior attorney for juvenile justice at the National Center for Youth Law in Oakland, California.
You appear to be in XXXX. Not your state?
According to data from the U.S. Department of Education, location plays a role in how children are disciplined, too. A child in XXXX is XXXX XXXX likely to be suspended from school than a child in neighboring XXXX.
In XXXX, children face essentially no risk of being paddled in school. Corporal punishment is legal in 22 states but occurs, for all practical purposes, in just 10 mostly Southern states.
In XXXX, your child faces a small risk of corporal punishment in school. XXXX is one of 22 states where corporal punishment is legal and one of 10 where it is commonly used.
Here's a look at how XXXX compares with the U.S. overall:
Numbers are per 1,000 students
Black children are not more likely to misbehave, just more likely to be punished, said Morgan Craven, the director of school-to-prison pipeline project for Texas Appleseed, a public interest justice center. Her group and others are trying change policies governing how schools discipline student, such as limiting suspensions for young students.
Students of color also more likely to be identified as having disability, conflating the two issues, said Elizabeth Olsson, senior policy associate at the NAACP Legal Defense Fund.
One problem that has come under scrutiny is implicit bias, a bias a teacher or administrator might hold without being aware of.
"It's not the result of someone being racist or being a monster," Harris said. "It's the result of stereotypes they've absorbed by living in this country that they're not even aware they're acting on."
School Discipline Across the Country
Most school districts rely on suspensions as the primary form of punishment, but some use more extreme methods at times – including arrests, corporal punishment and expulsions. The types of discipline used varies from state to state and even among neighboring districts in the same state. Using federal data from the 2013-2014 school year, NBC mapped discipline patterns for all 16,800 school districts nationwide. Pick a type of discipline from the tabs below and see how your state and region compares with the rest of the United States. The darker the color, the more instances of that type of discipline in that geographic region.
Find Your School District
The U.S. Department of Education collected information from every school district in the country. Search below to learn about any school district, including information on the district's discipline, how many teachers a district has, how many of them are new to the profession, how many schools have cops assigned, and the racial and disability makeup of the student body.
More Stories
Due in part to tragic school shootings like the Columbine massacre, police and security officers are now a regular presence at schools. But the handcuffing of Kalyb Wiley-Primm is one of many incidents across the country that have led to calls to examine the role that police play in schools.
Despite new recommendations from the U.S. Department of Education, some Bay Area school districts are resisting change
More from NBC Bay Area's Arrested at School series
In 2014, Massachusetts enacted one of the most progressive school discipline laws in the country that aimed to stop schools from pushing out kids for often minor transgressions, known to advocates as the school to prison pipeline.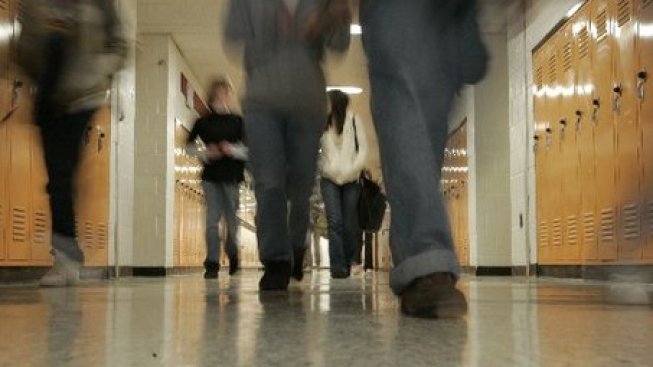 Araceli Quintero says she was trying to be a peacemaker in her New York high school last year when trouble erupted.
As many as 130,000 D.C.-area students are in schools that don't have clear guidelines for how officers should interact with kids and teens on school grounds
The NBC10 Investigators have dug into local policies for school discipline, and some schools in our region have suspension rates high above the national average.
---
About this data
Policing the Schools is based on detailed reports submitted to the U.S. Department of Education by school districts on enrollment and discipline. NBC examined records from nearly 17,000 school districts across the United States for the 2013-14 school year.
The public can view slices of the data through a Department of Education website located at http://ocrdata.ed.gov/
NBC obtained the entire database from the Department of Education's Office of Civil Rights. We looked for disparities in discipline by race, disability status and geography. We analyzed the data using R, an open-source statistics package often used by social science researchers.
Federal regulations require each district's superintendent or his or her designee to certify that all information they submit is true.
However, the state of Florida had to resubmit its report in October after researchers at UCLA discovered errors; the data in this story includes the corrected Florida data. In addition, four districts told NBC that the reports they submitted to the federal government were inaccurate and provided updated information: the arrest statistics for Mt. Diablo Unified School District in California, the arrest and referral statistics for Topeka Public Schools in Kansas and the Belton school district in Missouri and the referral statistics for the Hawaii Department of Education. Finally, NBC and the UCLA researchers have found what appears to be systematic over-reporting of expulsions among Ohio school districts.
Project Credits
Data Editor: Ron Campbell
Designer: Nelson Hsu
Developer: Vaughn Hagerty
Maps: Nina Lin
Graphics: Jessica Glazer
Video Editor: Jeremy Berg
Reporter: Noreen O'Donnell