Deportation rates of undocumented immigrants have ticked up in the federal Immigration Court for the first time in eight years as President Donald Trump starts to make good on his promise to expel millions of people. But even as the Trump administration expands its dragnet, the court is so backlogged that some hearings are being scheduled as far in the future as July 2022.
The long delays come as immigration courtrooms struggle with too few judges, only 334 for a backlog of more than 617,000 cases, and scant resources on par with a traffic court, said Judge Dana Leigh Marks of San Francisco, the president of the National Association of Immigration Judges.
Delays are the longest in San Francisco, where the court is setting dates more than four years out. Courts in Chicago, Boston, Atlanta, Cleveland, Detroit, Seattle and Arlington, Virginia are right behind with dates in 2021.
Immigration law is complex and the overloaded judges are making decisions about men and women who may have been tortured or raped, their children abused or forced to witness horrible acts, or who fear they will be killed if they return home.
"I compare the immigration courts to traffic courts and the cases that we hear - they are death penalty cases."
Judge Dana Leigh Marks
"I compare the immigration courts to traffic courts and the cases that we hear - they are death penalty cases," said Marks, a judge for 30 years who was speaking in her capacity as association president. "And I literally get chills every time I say that because it's an incredibly - it's an overwhelming job."
The backlog in Immigration Court, which unlike other courts is not independent but part of the U.S. Justice Department, has been growing for nearly a decade, up from about 224,000 cases in fiscal year 2009. The average number of days to complete a deportation case has risen from 234 in 2009 to a projected 525 this year.
A couple in Immigration Court in New York City for the first time on Sept. 21 came to the United States to escape violence in Ecuador, they said, overstaying a visa as they applied to remain permanently in 2013. They were expecting to finally explain their circumstances to a judge, but instead they were out the door in less than five minutes with a return date in 2020.
"I don't even know, how do I feel," said the woman, who did not want to give her name. "I feel frustrated."
The logjam began during the Obama administration as President Barack Obama boosted immigration enforcement while a divided Congress cut spending. The Justice Department saw a three-year hiring freeze from 2011 to 2013, which then became even worse when tens of thousands of women and children came across the border escaping violence in Central America.
"I don't even know, how do I feel," said the woman, who did not want to give her name. "I feel frustrated.
"The problem was years in the making but this administration is making it much, much worse," said Jeremy McKinney of the American Immigration Lawyers Association.
Obama was famously called the "deporter-in-chief" after he not only targeted immigrants with criminal records for deportation but also instituted formal removal proceedings for an increased number of unauthorized border crossers, according to a January study by the Migration Policy Institute. At the same time, fewer people were crossing the border because of a better economy in Mexico and fewer jobs in the U.S. after the recession.
The focus on criminals -- whose hearings, when they were detained, were either short or waived -- resulted in quick deportations, McKinney said. The Trump administration is targeting a much broader group and includes people who might be eligible to stay and that puts more strain on the courts, McKinney said.
"They will arrest anyone that has a pulse and that they suspect is in the United States without permission regardless of if that person poses a risk to our community," he said.
To clear the backlog, the Trump administration has proposed hiring 75 new Immigration Court judges plus staff, a number the House has reduced to 65, and it has considered expanding the use of deportations without court approval. In the meantime it has moved some judges closer the border temporarily, but that leaves behind even greater backlogs in their home courts.
But the job of an immigration judge is difficult and those in the courts warn that hires are not keeping up with departures. Long background checks dissuade many except for attorneys already working for the government from applying, they say.
The government is trying to quicken the process by resisting delays it formerly acceded to, McKinney said. For example, he said, government lawyers are now opposing a temporary halt to deportation cases to allow an immigrant who might be eligible to remain in the United States to take the steps that are necessary.
"So you've got people that are eligible for green cards but are not able to pursue it because suddenly the government is opposing the motion to close those cases," he said.
And it is also reopening cases that were closed during the previous administration, a move that could add to the delays, McKinney said.
"They're taking old cases and dumping those into current dockets that are already overflowing," he said. "These individuals are ones that were previously determined that they were not priorities for deportation."
One consequence of the logjam until recently had been that judges were deporting fewer immigrants. Last year, just 43 percent of all cases ended with a deportation removal, down from 72 percent in 2007.
That downward trend is beginning to reverse this year. The deportation rate rose slightly over the first 10 months of the 2017 fiscal year, to 55 percent, from 43 percent for all of the previous fiscal year. Among immigrants in detention, the deportation rate rose to 72.3 percent.
The outcome of a case can depend on the location of a court. Georgia has deported the vast majority of immigrants in court this year, New York ousted less than a third. Houston has expelled 87 percent of the immigrants, while Phoenix is at the low end with 20 percent.
You appear to be in XXXX. Not your state?
XXXXX
See the rates of deportation in state immigration courts across the country:
Fiscal year 2017 (October through July); Source: TRAC
Who Are These Immigrants?
More than half of the 11 million undocumented immigrants in the United States are from Mexico but their number has declined by about 1 million since 2007. They have been replaced by those fleeing violence in Guatemala, El Salvador and Honduras, plus immigrants from elsewhere. They live mostly in California, Texas, Florida, New York and New Jersey though the state with the highest percentage of undocumented immigrants is Nevada.
Nearly 60 percent arrived in the U.S. before 2000 and a third have been here for more than 20 years. Eight million of the 11 million have jobs. They make up 5 percent of the country's labor force, mostly in agriculture, construction and the hospitality industry. They are much younger and somewhat more male than the population as a whole.
The long delays in Immigration Court are jeopardizing some immigrants' chances. They risk losing touch with witnesses they will need or the death of relatives who would enable them to stay. They may have children back in their home country who are in danger. And although they are entitled to lawyers, they must pay for them.
"And so it is very frustrating and stressful frankly for the litigants in our courts to be in that limbo position for such a long period of time," Marks said.
The couple who fled violence in Ecuador has built a new life in the U.S. She is now a teacher, he works with hazardous materials and they have three American-born children. With no resolution of their case, they remain in that limbo.
"We're stuck here," she said.
Christina Wilkes, an immigration lawyer at Grossman Law in Rockville, Maryland, is representing a mother, identified as Z.A., who arrived with her daughter and son from El Salvador in 2014 after a gang tried to recruit the daughter.
In Washington, D.C., Maryland and Virginia the number of cases has more than tripled in past five years, with some cases taking more than four years to be heard.
The daughter's application for permanent residency has been pending since the beginning of the year when a judge granted her asylum, Wilkes said. But the mother still does not have a date for a judge to hear her asylum case, though the facts for both are nearly identical.
"For her, where her likelihood of success is relatively high, it's really frustrating because she wants a resolution," Wilkes said.
Andres, whose last name NBC is witholding, left Guatemala in August 2014, because he was discriminated against there, he said. He speaks Mam, a Mayan language, and dressed in traditional clothing, both of which made him a target.
"Because I'm indigenous, that's why they discriminated against me," he said. "A policeman would beat me, and we don't have any rights because they rule. The Spanish speakers are the ones who rule all parts of the country."
He has a work permit, he said, and is employed in construction. But he has twice had his asylum hearing postponed in Immigration Court in San Francisco and says he is scared that as he waits for his new date in January he will detained and deported.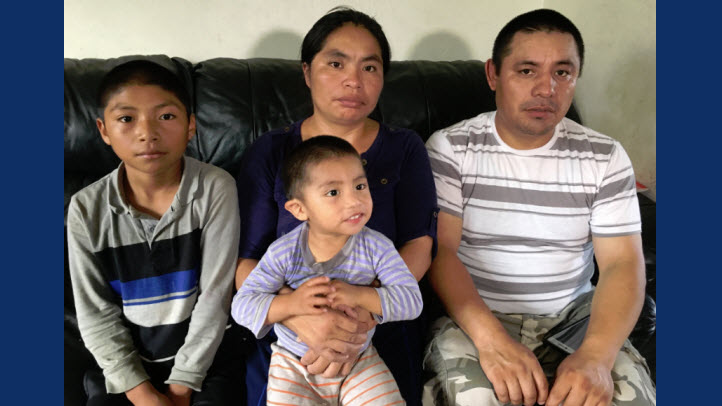 Those waiting to have their asylum cases heard find the reality that there currently aren't enough judges and staff to handle the demand leaving some applicants forced to wait for years while their witnesses and key evidence disappear.
"Because that is happening where I live in Oakland," he said.
Shouan Riahi, an attorney with the non-profit Central American Legal Assistance in Brooklyn, New York, said that the delays are causing particular problems for those seeking asylum. If a court date is set years in the future, they might not think it's important to meet with a lawyer immediately or know they face a one-year deadline for asylum applications.
Attorneys who represent clients in New York City's busy immigration court say the Department of Justice is scheduling immigrants for hearings on a "visiting judge" docket, even though the department hasn't assigned living, breathing visiting judges to hear the cases.
"So that creates a whole host of issues because a lot of people that are applying for asylum now are people who didn't have their hearing scheduled within a year," he said. "And never went to see an attorney because why would you if your case is in 2019 and now their cases are being denied because they haven't filed for asylum within a year."
Some judges are counting the delays as an exceptional circumstance and are accepting the applications as filed on time, but others are turning immigrants away. Riahi's office is appealing those cases and he expects some to end up in federal circuit court.
Other who are getting caught up in the delays are children who have been neglected, abused or abandoned and are eligible for special immigrant juvenile status. In some courts they are being deported before they receive their visas, he said.
Paul Wickham Schmidt, a retired immigration judge who served in Arlington, Virginia, for 13 years, said that the delays do not serve due process or justice.
"It's not fair either way," he said. "It's not fair to keep people with good claims waiting, but it's not really fair that if people have no claim their cases sort of aimlessly get shuffled off also. That leads to loss of credibility for the system."
More Stories
In downtown Los Angeles, the immigration court takes up three floors of an office building across from Pershing Square. Outside, there's no mention about what's taking place inside the non-descript office tower -- families huddled together in bleach-white hallways, in groups so large you can't tell if the air conditioner is even running.
Documents from the Trump administration show the president's plan to ship more immigration judges for temporary assignments in border states is encountering a fundamental problem: there isn't enough work for all the new judges to do.
About the Data
These stories are based on enforcement, budget and demographic data from the federal government and nonprofit groups.
Our primary source for information on operations of the Immigration Court was the Transactional Records Access Clearinghouse. TRAC, a nonprofit at Syracuse University, has collected and organized data from federal law enforcement agencies for decades and makes that data available to the public. Its website is trac.syr.edu. TRAC is funded by grants and subscription fees; NBC subscribed to TRAC during this project.
Information about the size and demographics of the undocumented immigrant population came from two primary sources: the Pew Research Center and the U.S. Department of Homeland Security. Both groups use a roughly similar technique, the residual method, to estimate the undocumented population, and reach similar estimates of its size. For a brief description of the residual method, go here.
Some of the best information on the immigrant population as a whole as well as historic perspective on immigration enforcement comes from the Department of Homeland Security's Yearbook of Immigration Statistics. It is available here. The most recent year for which statistics are available is 2015, though 2016 statistics should be provided shortly.
We also obtained a limited amount of data, particularly historic data, from the U.S. Census Bureau. The Census is the authoritative source on historic immigration patterns. However, the Census does not ask foreign-born residents about their immigration status, so its data is of limited value in measuring the undocumented population.
CREDITS
Ron Campbell, Jodie Fleisher, Sam Hart, Estefania Hernandez, Nelson Hsu, Nina Lin, Will Mathis, Noreen O'Donnell, Alana Pipe, Dan Przygoda, Stephen Stock, Jennifer Tran / NBC